What Is Copywriting?
Copywriting is the approach to write text which inspires, urges, or informs, anyone who will read it. This term, basically used to increase business sales and conversions. Copywriting is used for different mediums which are:
Social media posts

Advertisements

Sales letters

Blog posts
Why is copywriting important?
When you step into the world of digital marketing, you will come across videos, podcasts, and many other things to benefit the business. So, why is copywriting still an essential part in 2021, or will be in the future?
Yes, it is important and it will be. Here are some of the advantages which come along with it like:
Get higher conversion rates on important pages

Improve articles structure and flow

Increase user engagement on the posts

More people will share the content

Getter better insight on what the customer wants or need
You can say that copywriting will do wonders on every step of digital marketing.
When copywriting should be used?
Copywriting will be beneficial when you are working on:
Video scripts

Outreach emails

Blog post headlines

Podcast descriptions

Interview questions

Facebook posts

Press releases

About page copy

Webpage meta descriptions

YouTube video descriptions
What is the role of a copywriter?
As the term suggests, copywriting is writing the content. Well! That does not mean just writing one word after the other.
Just consider: When you want to write about someone, you will search about that person or get specific details from them. In the same manner, the copywriters will learn, "Who is their audience?" In addition, they will understand in detail about the product which they want the customers to get attracted towards.
Once you understand and get familiar with the job, it makes it easier to give your best and help the business to flank the competitors.
What are the skills needed to become a copywriter?
This job profile might seem interesting to you, but you must be thinking, 'How to become a copywriter?' It is all about the skills and there is formal training which a person needs to get. An individual should have an understanding about the:
Customer research

Content structure

Online advertising

Sentence structure

Web copywriting

Grammar and spelling

Persuasion
Be patient. You must give yourself time to understand the job description in-depth.
Do you know?
Most of the companies hire 80.3% of employers with good and strong writing skills.
How to write the copy which converts?
One simple and most effective rule is:
Write the way your customers talk
Confusing?
Let us guide you what are the strategies to do that:
Reddit is one of the places which can make you understand the way your customers talk. You should go to the place where customers like to hang out. After that, you should explore the popular threads. Understand the language they use to describe something.
Amazon reviews are to the point and nothing less. You will find the most honest reviews on amazon about a product. Whether it is a product or book, you will find reviews for everything there.
Surveys are done to understand what the user likes. So, why not use it for copywriting? So, you should ask the customers like, what did you want to buy, what have you used before, was the product good, and why did you use it?
When you get their response, it will be easier to write for them directly as the customer is speaking for themselves and no one else.
Social media is like a King, where you will find anything and everything. Customers like to go over their social media platforms and share reviews of a certain product or service. Explore this platform and we are sure that you will find something which you have not added to the content.
What are the top strategies for copywriting?
Make your start irresistible
You need to write the content which makes them glide to the end. Well! That will only open when you can catch their attention in the first sentence. Content needs to be captivating and appealing to the potential reader.
AIDA formula – works like a magic
AIDA is a powerful copywriting formula that works for:
Sales pages

Video scripts

And more

Squeeze pages

Blog post intros

Email newsletters
You need to focus on what AIDA means and then write the content accordingly. AIDA stands for:
Attention – Take their attention

Interest – Build interest in the product or service

Desire – Tell them why they will desire for it

Action – Urge them to make the purchase
Benefits are powerful
No doubt, features are great but not that best as benefits. For instance, you have launched a new product for skincare which addresses the acne issue along with brightening of the skin. Then you need to focus on those benefits.
Strong CTAs
CTAs are Call-to-Action is the distinction between the page which gets converted and which does not get the user's attention. You need to understand that your user is extremely busy and they don't have much time to go through everything so that they can reach the final step.
You need to guide them on what they should do next. So, you must use social triggers like:
Register

Sign up

Buy now

Enter Name and Email

Click to Download
There is no need to do anything fancy. Just, make sure that your CTAs are to the point, which helps the user to understand what action they need to take.
Create the urge to buy
You need to create a situation that they cannot stop themselves from making a purchase. Some of the ways to create a sense of emergency are:
"

Limited time offer"

"

Quantities limited"

"

Only 10 left"

"

Sale ends on June 15"

"

Doors close on Thursday"

"

Hurry Up"

"

Bonanza Offer"
But, make sure that whatever you write on the website, it should be real. In case, you simply write such things to get their attention, your business will go down instead of getting increased ROI.
Crystal Clear USP
USP stands for Unique Selling Proposition.
In other words, it can be anything that is why you are different and better from the rest. It might be faster delivery, easy exchange service, or queries are responded to within a few hours.
How can you master the lead and write compelling copy in 2021?
Let's continue the blog where we have discussed about copywriting and covered the topics: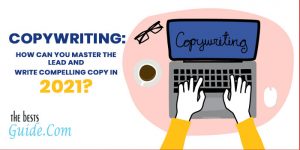 Copywriting Fundamentals

Customer-Focused Copy

Copy Writing Strategies
Now, we will discuss the further topics to make you understand better here the topics which are included are:
How to write amazing headlines?

How to master the lead?

How to write a compelling copy?
How to write amazing headlines?
Do you know, 'Only 80% of people will check the headline and 20% of them will go through the copy.' No one knows if there is actual truth in this statement or not. Although, it is clear that Headline is of prime importance. Writing interesting and best headlines can be done with ease, you only need to understand the process.
Be specific about the headline
Make sure you are extremely specific with the headline. It means you need to write what exactly you will be talking about. You need to be super-specific with the headline to tell the consumer what you are talking about.
Embed numbers with headlines
Headlines + Numbers will do a different kind of magic. If there is simply a headline, no one even might not notice it. When the user sees headlines like these, "Learn the professionals tactics of website designing in 35 days". Studies have shown that users are going to click on such headlines right away.
Make your headline emotionally attractive
You need to make the headline emotionally attractive which means ad some emotionally charged words like a fast, crazy, mistake, new, breakthrough, amazing, now, and much more.
FOMO stands for 'Fear of Missing Out'. No doubt, it won't work for every situation and if you use it they can make your headline 10 times stronger. You need to create an emotion in your headline which makes the user compelled to check your content. You need to include phrases like 'Limited time Offer', '50% off, and much more like these.
You need to write the headline which is written to attract the customer and they should feel connected towards your business.
How to master the lead?
In most cases, leads are not given that much importance they deserve. Both headlines and leads are of utmost importance. When the user visits the website, they check the first few lines and decide whether they should stay on that page or not. If you are not able to grab their attention there and then, you will lose them. Here are some of the strategies which you should use:
Make the first move right
Just remember the quote, 'First Impression makes the last impression'. It plays an important role when you are writing the content. Here some of the things which you need to use at the start of the content:
Does it sound familiar to you?

For (years) i lived with (problem). But, then I…..

Now you can also take advantage…

New study has found (Mention an interesting fact)
Stories are a great way to hook users to your content or website. Just make sure that you keep it to the point and compelling. Mini-stories are just 4 to 5 lines.
With the lead, you should complement the headline, so that it grabs the attention of the user.
Minimal is best and that should be included in the headlines. This way, the user's attention will move forward to your content. Just make sure that you keep the introductory part to just 6 lines.
How to write a compelling copy?
If you are looking for points to write emails, social media posts, sales letters, blogs, or any other content, then here we have mentioned the tips which will help you to write something eye-catching and interesting.
Write as you speak with others
Have you heard the proverb 'When in Rome, do as the Romans do'? By here what we meant is that, you need to write the content just the way you speak. It is the most ultimate way to make your content interesting. You should include the sentences which include:
Over the last few months, I have learned that…

You will also learn about….
This way your content will sound natural and the user will be attracted to it which will prove beneficial for your website.
Keep it short and simple
Short Sentences = Better content
Well! This is even proven with the help of the facts. For example, One content is 50 words and another is 15 words. Research has shown that people are going to read the second content and it is around 711% better as compared to the first one.
So, your focus while writing the content should be one short and simple sentence, but make it as informative as you can.
Active Voice
Content only needs to be written with an active voice and it will be much more effective. If you are not sure how to write it, then you can go through the search engine and look for detailed information. Till then, here are some of the examples, which you should consider are:
| | |
| --- | --- |
| Active Voice | Passive Voice |
| | Bananas are adored by monkeys. |
| The dog chased the squirrel. | The squirrel was chased by the dog. |
| The cashier counted the money. | The money was counted by the cashier. |
No Big Words
You might think, people like to read big words, but that is not the case. Short words will impress everyone as these are easy to read and understand. Here are some of the words which you need to avoid using in the content are:
Here's what you need to stick to the words in your content like:
Wrap up!
So, when you are careful in the way you write, it will fascinate the users towards the content. All in all, you need to keep it simple, informative, and interesting. This is the way your content will grab the user's attention, and it will also build their trust in your business.
What are the most effective copywriting formulas and advanced strategies? 
In this blog, we will continue to discuss copywriting and make you enlighten about the most effective and advanced copywriting strategies. 
What are the most proven copywriting formulas?
To become a pro copywriter, there is no need to start from the first block. They get started by picking out the most effective template and then start painting the most informative picture. If you talk to a copywriter, they will tell you, "To write a great copy you just need to assemble it and no need to write it." Let's check out the most effective and proven copywriting formulas for better and quality work. 
Email Newsletters
Make sure the Email Newsletter you use should urge the customer to open it. Check out the method to create that perfectly. 
Subject Line = Short and Simple
Make sure your subject line provides an outline of the content, and do not give away the entire info. Like "Backlinks", this super simple yet informative subject line will give an open email rate of around 46.3% which are more than 90,000 subscribers. This gives the information to people that you have discussed backlinks. 
Make your lead intriguing
You need to make the first line as compelling as you can. This line is shown as a preview in Gmail, so make sure it is as good as it can be. For example:
'You won't even believe what I have come across….'
Hook them up with a story
You need to discuss things like you would do with your friend. Even though the story, you need to share some interesting tips and lessons. In all, you need to make it personal, funny, and informative. 
You should not let your reader hang in between. Make sure to tell them 'What exactly they need to do…' For example, tell them whether to make a purchase, register or sign up. 
It is human psychology to not miss out on the P.S. which means adding the supplement or additional information. It will sum up everything and you will increase their craving to get more information. 
Landing Pages
Let's discuss the ways to increase the services page, signup pages, and more to get a higher conversion rate. 
Through headlines, the reader should know what they will get from the service, product, free trial, or newsletter. 
For example: Get double the views on your youtube videos with these 5 simple steps.
Without social proof, you cannot stay in the competition. Make sure to include social proof like the place you have been featured, the total number of customers, and much more. 
PAS stands for "Problem, Agitate, Solve". It means you need to tell the client about the problem, make them understand how it is problematic, and then provide them the solution. 
From the problem going to the solution/offer. For example, You can introduce them to the product, which can address their issue. 
Like we have mentioned above, the user should know what they need to do next. 
Blog posts
Creating blog posts on your website is a great way to grab user attention and boost website traffic, which eventually leads to a higher search engine ranking. Here's what you need to do:
Keep the headline short and specific, like: Learn cooking within 30days
Short introduction – Less than 8 sentences
The introduction needs to be linked with the headline and provide the proof of what you have promised. 
Your content should include effective tips, strategies, and methods which will work right away. 
Make sure to include as many examples as you can.
Conclusion – Ask the reader to subscribe, comment, and share the post
Sales Letters
Sales letters need to be designed correctly for online courses, paid newsletters, and much more. Here's how you need to do that:
Make sure the headline is bold and it should mention the benefit of the specific product.
To make the reader connect with you, make sure to start with a story, fact, or a real-time scenario.
Attention and Interest – Both these things are an important part of the headline. In the mid part of the letter, the user should take the action to buy/register/share the information/product. 
Bullets should be included in the post to mention the benefits. 
Include the testimonials so that the user can connect with you in a better manner. 
Risk reversals mean to include, Try Now. Decide in future, No Questions Asked, Comes with a 90-Day guarantee. Make sure the signup is easy.
What are the advanced copywriting strategies?
Basics are done, but what about the advanced methods? Let's get started with some of them in this section:
Make the most of Crooked numbers
Crooked numbers are numbers that are not rounded. For example:
People trust these numbers more as compared to the round numbers. So, try to include this practice in copywriting. 
Selling does not come with telling
It means you need to show the user how the product can be beneficial or useful. If the user does not know how it works, they will not be interested in your brand.
Mention the right information on the button
Do you know the user will get more inclined to 'Get the free guide' as compared to 'Learn more.' This way you will get the conversion you are looking for. 
Coming out from the friend zone
It means that the user likes the product, but not enough that they cannot resist. You should use these things like:
If you have tried everything, but nothing is helping you….

Get your demands fulfilled on time with….
Include as many testimonials as you can
Do you know testimonials are 10 times more effective? It will push the customers to make the purchase, testimonials build their trust in your brand. 
Now It's your turn to get started
Use these copywriting strategies and get the ultimate benefit & effective results, which you have been looking for a long time. Want to get more information, then get in touch with our professionals.